publish:2022-03-23 14:30:00 views :391
unknown
unknown
publish:2022-03-23 14:30:00

391
Fully guarantee the transportation of anti epidemic emergency power equipment
After receiving the goods from COSCO on the evening of September, the company will set up a detailed transportation team to arrange the loading and unloading of goods and materials in combination with the characteristics of COSCO on the night of September. After receiving the goods from COSCO, the company will immediately arrange the transportation route and logistics personnel of COSCO on the night of September. The team carefully checked each driver's two yard one report. At 23:27 on March 10, the last large box transformer was sent from Jinan and arrived in Qingdao at 5 a.m. on March 11, winning the first opportunity for Qingdao to fight the epidemic.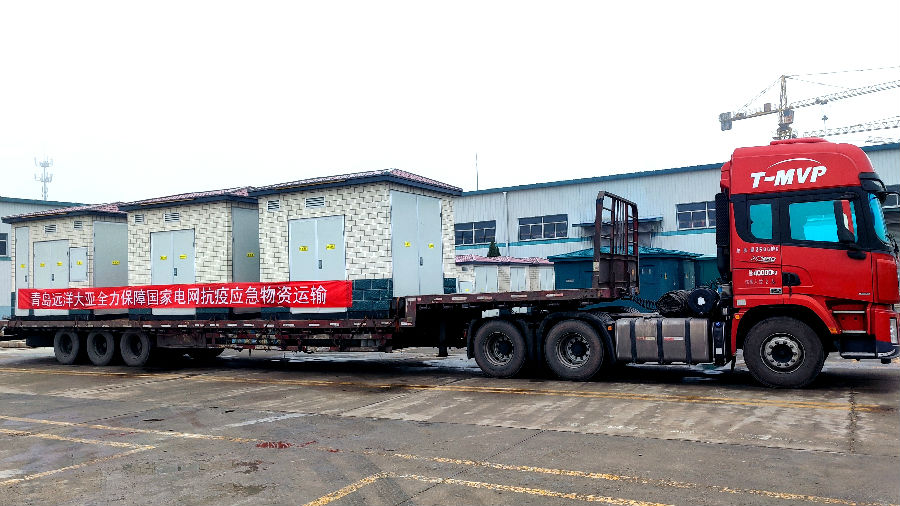 In addition, according to the demand of the State Grid for emergency allocation of large-scale box transformers in Shandong Province, after receiving the emergency task at 8 a.m. on March 12, the group quickly entered the working state. After 48 hours, the large-scale box transformers in Yantai and Zibo were successfully transported to Decheng, Linyi and other places in Dezhou, ensuring the smooth development of anti epidemic power infrastructure.
Energy conservation
Add special channels to optimize control measures
  Since March, in order to ensure smooth energy transportation, COSCO marine energy system has made every effort to shoulder the mission of "large fleet" and provide high-standard and high-quality services. During the epidemic period, as a supplement to the "one-stop service" of the customer manager, COSCO marine energy set up an emergency appeal service telephone and email, which was accepted by a specially assigned person for 24 hours. The task decomposition, feedback and follow-up were done at the first time, and the person in charge of the business department took the lead in organizing the implementation to ensure proper solutions. On March 13, in order to ensure the normal production of the refinery, relevant customers in Yingkou City, Liaoning Province urgently requested water transportation capacity from COSCO marine energy. The oil tanker Department of the company dispatched ruijintan to Yingkou port to load goods at the first time, and transported processing raw materials for customers in time, which showed the guarantee ability of the company's emergency transportation capacity and further consolidated the cooperation between the two sides.
  In terms of LNG transportation ships, in order to ensure the transportation efficiency of clean energy during the epidemic, cneng Beihai completed the first night voyage of LNG ships in the port at the LNG terminal in East Guangdong, Shenzhen in early March, which greatly shortened the time of ships in the port and greatly increased the flexibility of Wharf shipping schedule arrangement, providing a more powerful support for natural gas supply in South China. From January to February this year, the company's LNG ships have completed 98 carrier transportation, with a total of 15.8552 million cubic meters, 6.9808 million tons and a turnover of 22.903 billion tons of nautical miles.